Updates to the book
Raphael Kirchner and his postcards. New edition
A fascinating aspect of the postcard collection is that it can never put an end to the search.
Almost a year after the publication of our book, a few but interesting new pieces have been added.
In this page we report the updates to the new edition, as we receive new information, also thanks to the collaboration of all readers of the book and of the site.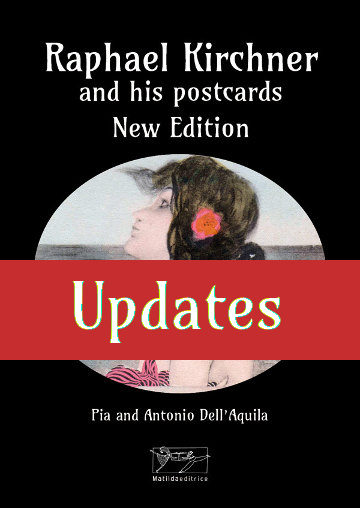 * 7 *
The drawing shown on the unsigned postcard F.10 is the same, slightly modified, of the signed postcard E.21-1.
(See pages 147 + 162 of our new book)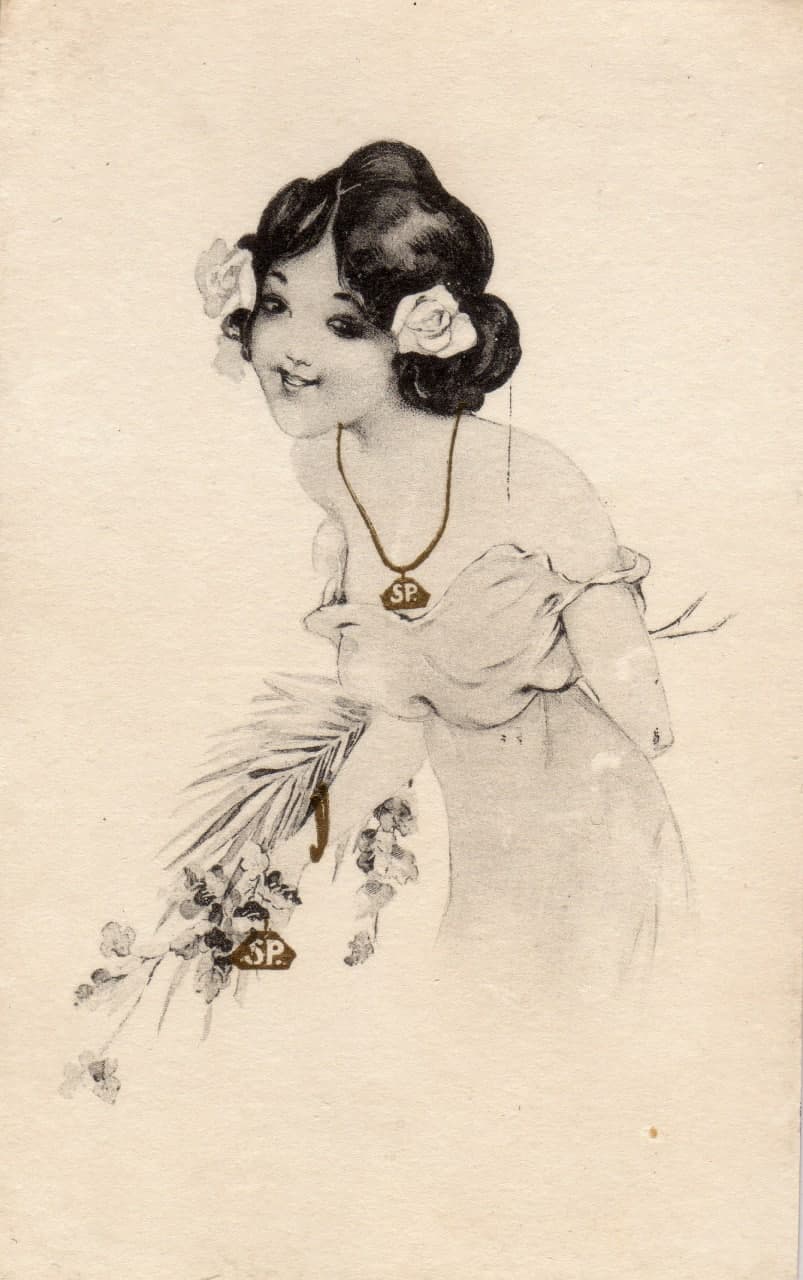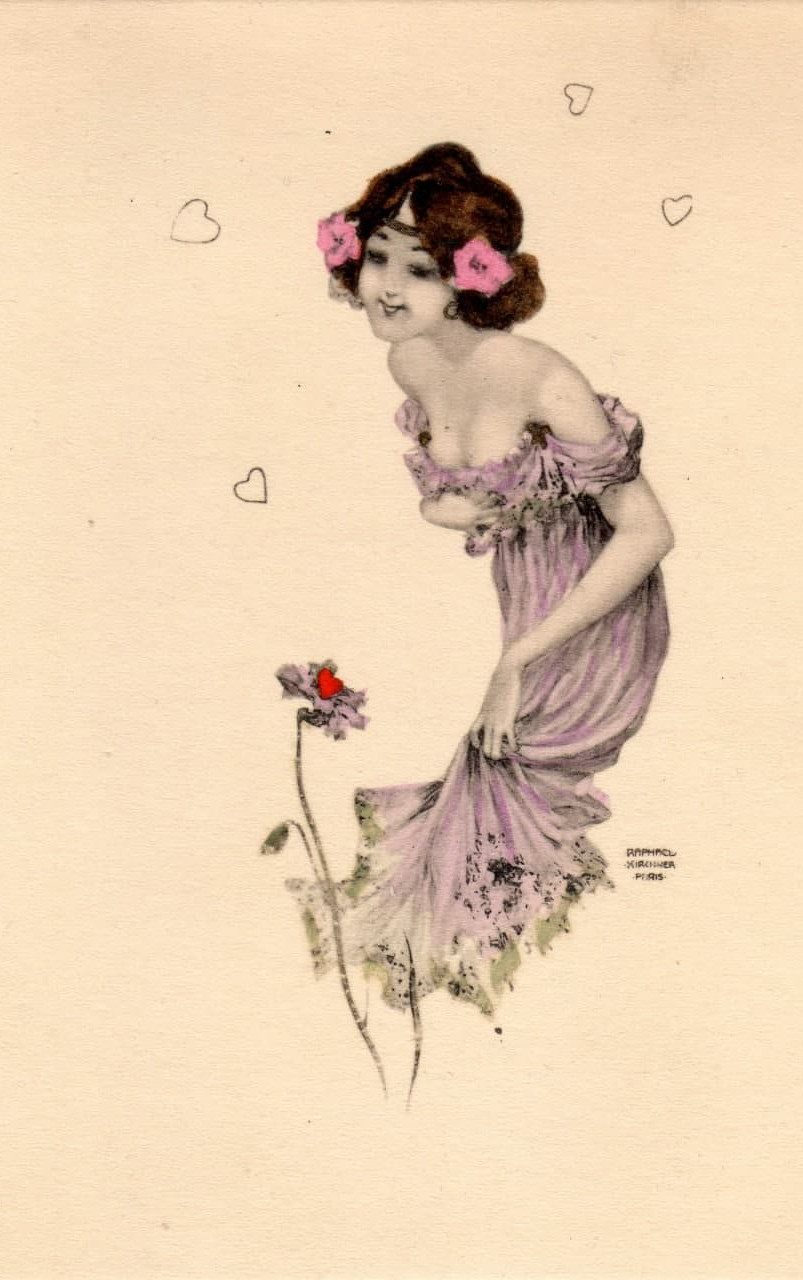 We still have no information regarding the SP jewelry company operating in 1907 in Birmingham.
We hope that some willing inhabitants of this hard-working city can provide us with useful news.
---
Last updated on January, 20th, 2022
* 6 *
In H.3 (page 186) a new edition have to be added:
H.3.b = E.P. Paris
Page 240 correct Note 4 as follows:
NOTE 4 - The figure #4 was used as cover of the German Lustige Blätter magazine.

Page 241 correct Note 5 as follows:
NOTE 5 - The figure #5 was used as p. "The Glad Eye" of the series Q.1 and the print "Ma Grande Mère" [My grandmother] of the Bruton Galleries.
---
Last updated on November, 13th, 2021
* 5 *
In series K.11 (page 227) a new image must be added:

K.11-4 Easter Angel
Reported by Susan Lane (USA).
---
Last updated on November, 13th, 2021
* 4 *
In series L.1 the title must be added:
L.1 - Girls with animals, "Petits Amis" (page 230)
Thanks to Mr. Eric Verbist we know the exact title of the series "Petits Amis" as printed on the envelope
---
Last updated on August, 30th, 2021
* 3 *
In serie K.13 (page 229) a new image must be added:

K.13-5 - Children playing on the lawn
Reported by Mr. William Kirkland
---
Last updated on August, 30th, 2021
* 2 *
An edition must be added to the K.10 series (page 226), with a new image: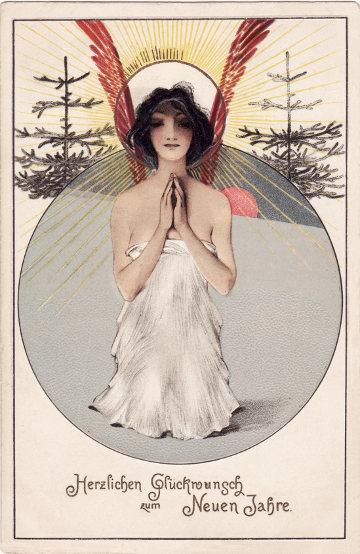 K.10-4 - Christmas angels
Private collection
K.10.c = Ernst Karl von Linsingen Kom.-Ges., Hannover + "Cock", 4396 + "Herzlichen Glückrounsch zum Neuen Jahre" (Congratulations on the New Years)
---
Last updated on August, 30th, 2021
* 1 *
In serie F.10 a new edition must be added:
F.10.f = n.p., on the back «It is a pity to let the season run on without trying what you can do with SP. goods. Write to your wholesale house for a sample parcel today.»
Thanks to Mr. Eric Verbist who sent us the new text for F.10 (see page 162)
---
Last updated on August, 30th, 2021