1875, May 5
Raphael Kirchner was born in Vienna, to a middle class family
1885/1890
He had music lessons and attended the Conservatoire in Vienna.
1890/1894
He studied at the Vienna School of Art.
1894/1897
He attended an art course at the Spezialschule fur Historienmalerei in Vienna, under the guidance of August Eisenmenger, professor at the Vienna Academy.
1896
He began his activity as a portrait artist.
1897
The first known works as illustrator:
the poster for

Wiener Illustrirte

, a woman's magazine published in Vienna
cartoons and drawings for the Viennese

Wiener Caricaturen

,

Die Bombe

and

Wiener Illustrirte Fraue-Zeitung

magazines
the illustrations for the book by Leo Hirschfeld,

Charlotte Wolter - Ein Erinnerungsblatt

, published by Carl Konegen, Wien
some illustrations for the album

Radlerei

, commissioned by Continental Pneumatic
the first known set of postcards, «Wiener Typen»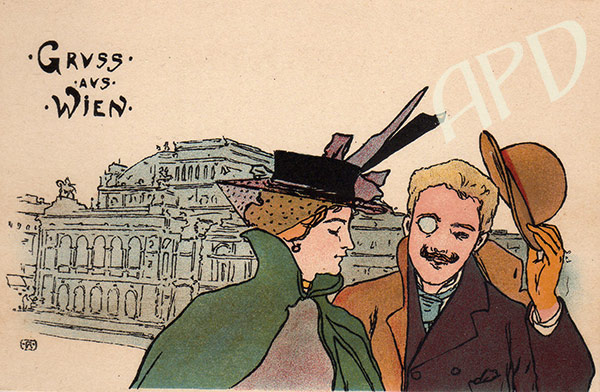 1898
He drew his first sets of postcards for the publishers Philipp & Kramer and Back & Schmitt, both from Vienna, and Theo Stroefer from Nürnberg.